Test drives are one of the most common ways to generate leads or potential customers for a car. The required test drive agreement is legally necessary but often still in paper. For some of our customers (Car maker and dealer), we set up a paperless/digital workflow to optimize the lead generation.
Sample Probefahrtvereinbarung (German version)
Why digital/paperless
Especially on shows and bigger events people coming in unpredictable waves. Sometimes a single person every 15 minutes and sometimes 5 people at once. If you offer a test drive and have to go through multiple documents it just isn't working using paper.
You have to prepare the documents prior to the event which means you have to guess how many printouts you need.
The documents have to be collected and stored to prevent loss. That is often quite difficult, especially on busy trade shows.
Back in the office all those signed agreements have to be stored somewhere to be available on request (e.g. speeding tickets)
Your image and brand awareness
What many still ignore are the image on those events. It is just incompatible if you are addressing a younger audience and hand out paper and pen to sign for a test drive. They expect a digital way to sign up using a tablet or other mobile device. Additionally, the growing group of people sensible on sustainability, for them using paper is just a no-go.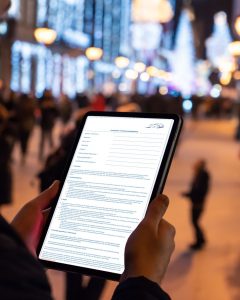 How we did it for our clients
We created a two-step process. The first part are the test drive agreement itself. The personal is collecting the client's information including drivers licence, e-mail and signature in advance to the test-drive. The system is set up to send out a copy of the agreement to the driver as PDF. Together with the document, the driver receives a link to rate the drive/car (please rate the test-drive). Using this double interaction we got another nice side effect. The driver can leave the car without further interaction (except the car check of course) but gets a reminder about the drive later on. That way we create even more customer retention.
In general, you can create such a digital workflow using multiple tools. We used our app (surveydoc) because it offers complete offline capabilities. Especially on tradeshows or public events, wifi is still a big issue. Using surveydoc all data will be collected locally at the device and as soon as the tablet connects to the internet it will sync automatically.
If you have questions, recommendations or you are interested in more details, please do not hesitate to contact us at contact@salesdoc.de